Vinyl Flooring in Kingston, MA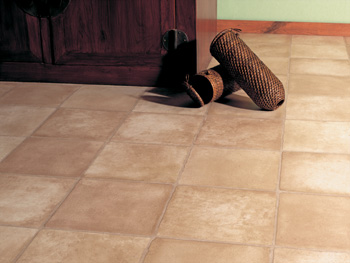 Choose from our wide selection of vinyl flooring and get the style you want with the durability and value you need. Today's active families need flooring that adds character to any room while providing the strength to withstand the traffic that comes with having a busy household. This cost-effective option for flooring is easy to maintain and retains its attractive look and feel for years to come. Our vinyl sheet or vinyl plank flooring is a wise investment for any homeowners planning a redecorating project.
Value-Added Vinyl Tile Flooring That Lasts
Maximize the value of your home improvement dollar by purchasing our versatile vinyl tile flooring. Whether you are restoring the family breakfast nook or renovating your guest bathroom, this attractive option for tile flooring makes the most sense when you consider the enduring quality if affords. This product is essentially the same as luxury vinyl tile, and it's one of the most popular options for both home and business property owners.


Resilient Vinyl Sheet Flooring
Choose a durable solution with our vinyl sheet flooring when family life begins taking a toll on your home's flooring. This flooring option can withstand the scrapes and scratches that come with having kids and pets, and it looks great, too. This enduring product also resists moisture and can be easily installed in one or two seamless sheets.
Finally, there is a flooring option that can maintain its stunning appearance in the face of steady traffic. Upgrading your home is possible and affordable when you take advantage of this low-cost, quality flooring, available in numerous patterns, colors, and images that can be printed on its surface.


The Affordable Beauty of Vinyl Plank Flooring
Enhance the value of your home or office with the stylishness afforded by our vinyl plank flooring. This type of flooring, otherwise known as luxury vinyl tile, can help you modernize the appearance of your favorite room no matter what size budget you are working with. Your home can set the standard for style and grace with this simple alternative to traditional hardwoods.
Choose the look of your favorite wood species and have the look and texture of real wood without the price or maintenance. Additional benefits of this flooring are its durability, longevity, and ease of maintenance. Style and substance are within your grasp with new vinyl plank floors.


Vinyl Flooring Installation from Professionals
Our complete commitment to your satisfaction includes professional vinyl flooring installation that can make a huge difference. Having your flooring installation from a trained specialist is the best way to protect the investment you are making in your flooring and in your home. Ensure your new flooring is protected from moisture damage and peeling by relying on our trained team of installation experts. We communicate with you to fully understand your design plans, so that we can get the job done right the first time.



Contact us today for a free estimate on vinyl flooring that can change your outlook on living. We proudly serve the communities of Plymouth, Duxbury, Carver, Hanover, East Bridgewater, Halifax, Hanson, Kingston, Norwell, Sandwich, Pembroke, Rockland, Marshfield, Whitman, and surrounding areas of Massachusetts.